Étiquette :
Internet
Page 2 of 5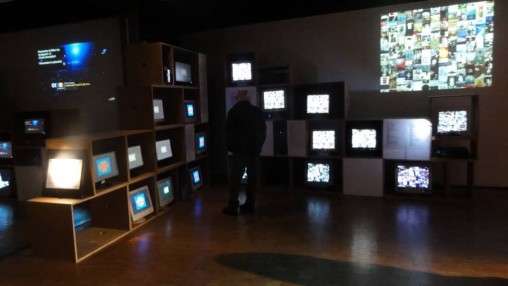 GridFlow, Reynald Drouhin, sur wj-s Chers amis et collaborateurs / Dear friends and collaborators  Anne Roquigny présente au Festival Exit à Créteil une nouvelle installation Webjays 111oOzOo111 (prononcer MoOzOom)…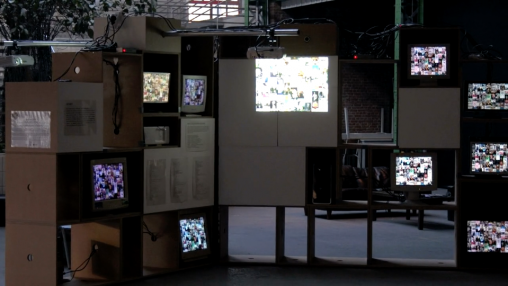 WJ-S is a software and a flexible public device for web performances allowing WJ-S (webjays, artists, web addicts and web mutants) to play live with text, sound and…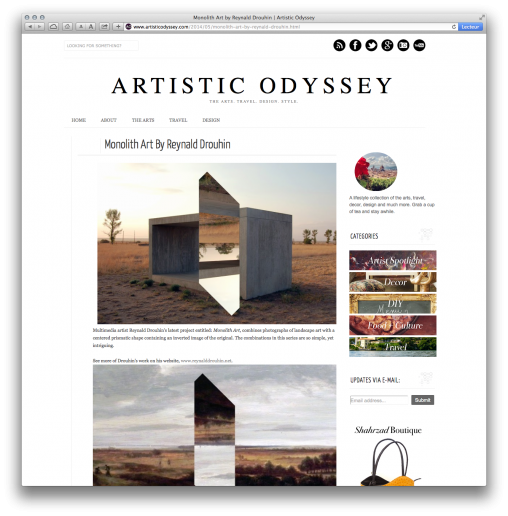 Sélection d'articles web sur le projet Monolith Art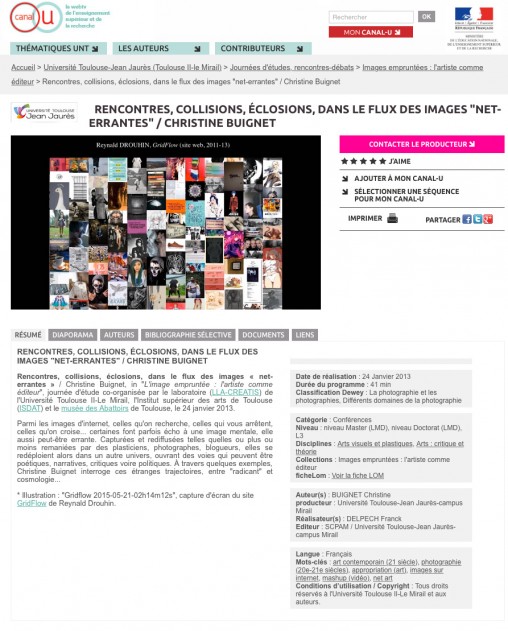 Rencontres, collisions, éclosions, dans le flux des images « net-errantes » / Christine Buignet, in « L'image empruntée : l'artiste comme éditeur« , journée d'étude co-organisée par le laboratoire (LLA-CREATIS) de l'Université…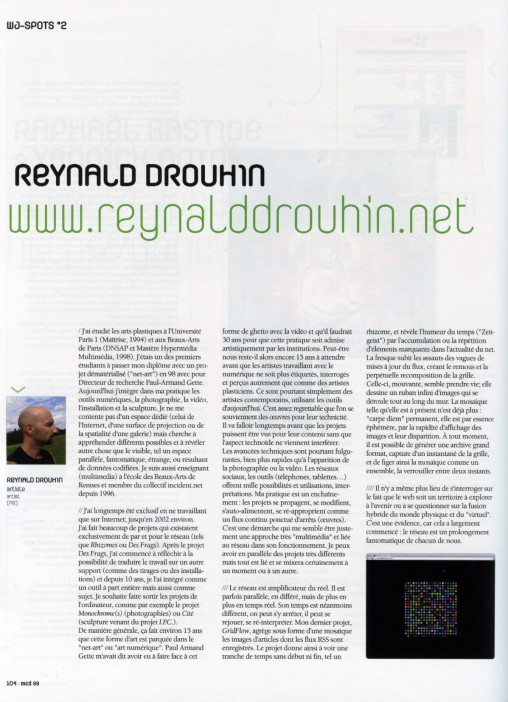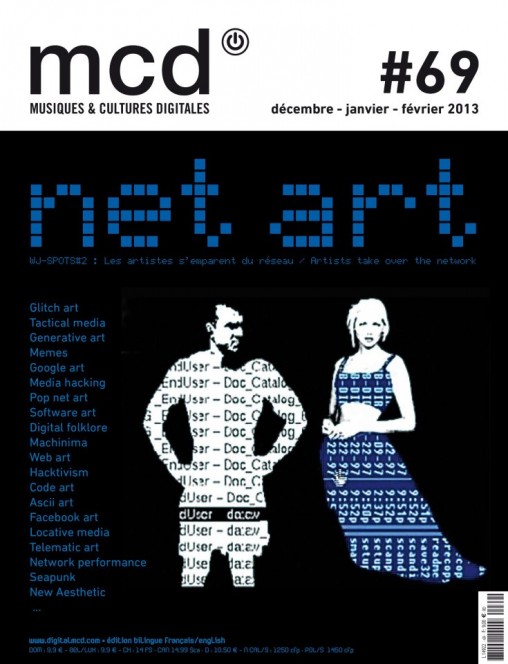 MCD # 69 CHERCHEURS D'ART : LES PÉPITES DE LA TOILE S'il vous arrive, au détour d'une rue, d'être fasciné par une œuvre de street-art, les artistes du…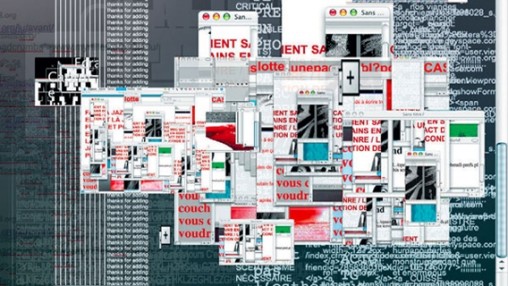 Le 13 décembre à 19h à la Gaité Lyrique WJ-SPOTS est un projet imaginé et conçu par Anne Roquigny, curatrice nouveaux médias, rédactrice en chef invitée de ce…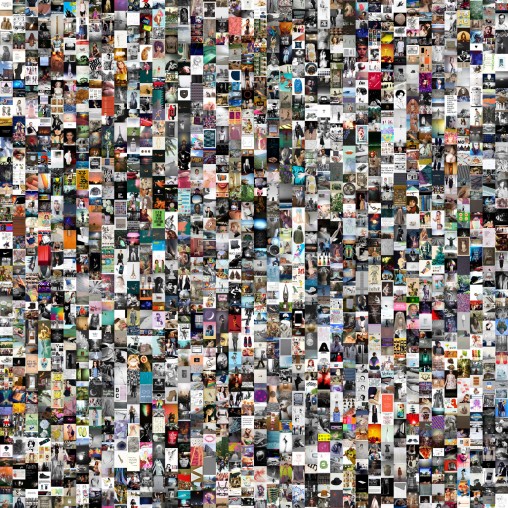 GridFlow 2012-09-28-07h34m49s / 2012-09-27-21h44m16s Capture du site GridFlow 2012, tirage lambda sur diasec avec chassis aluminium, 100 x 100 cm.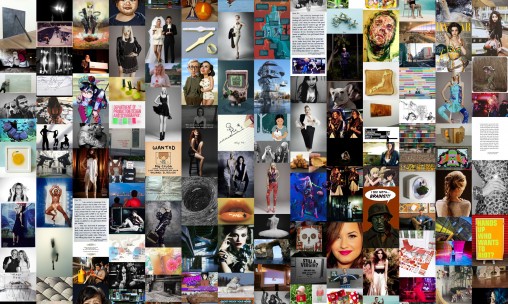 Site Internet http://www.reynalddrouhin.net/works/gridflow/, 2011-12. (Projet mis en pause en décembre 2021) Conception et direction artistique : Reynald Drouhin Ingénierie et développement : Sébastien Courvoisier GridFlow (site web, 2011-12,…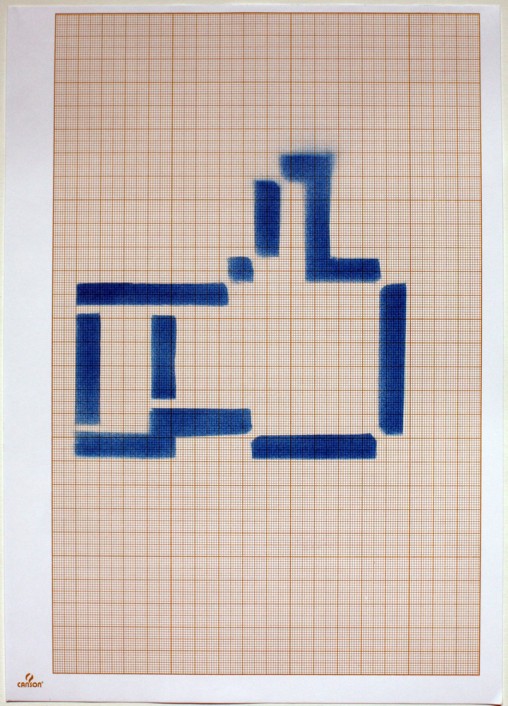 Pochoir bombe bleu, 21 x 29,7 cm, 2012.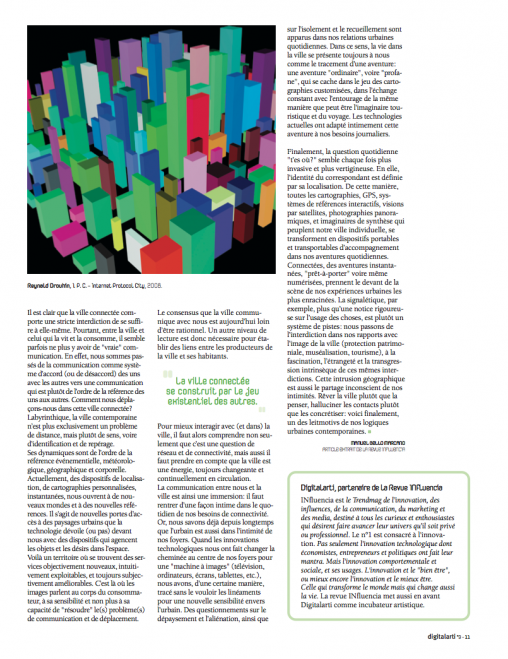 Nouveau magazine Digitalarti en ligne : http://www.digitalarti.com/files/digitalarti-mag9.pdf Version interactive ici : http://www.digitalarti.com/files/ebooks/digitalarti_mag_9_fr.html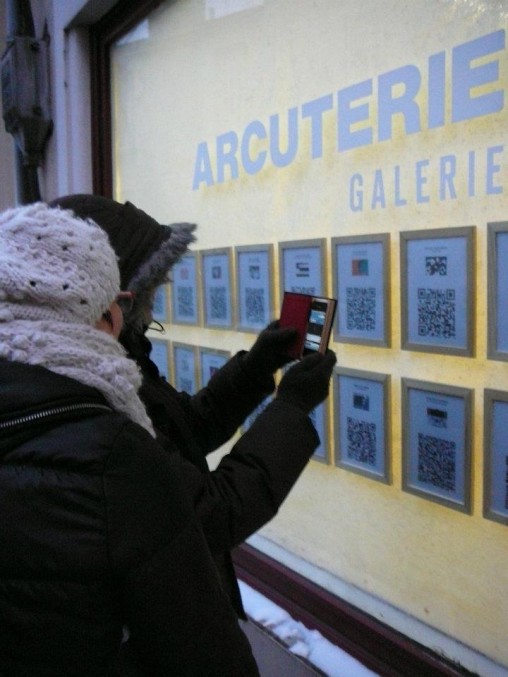 Spammm / Durant l'exposition, la galerie sera fermée Arcuterie Galerie
Pratiques performatives, Body Remix, le spectacle du corps à l'ère d'Internet de Josette Féra, p. 63, Presses universitaires de Rennes et Presses de l'Université du Québec (2012) Voir p.63